Data shows the Bitcoin spot trading volume has surged up recently and is now approaching one-year highs as volatility in the market continues.
Bitcoin Weekly Trading Volume Jumps Up To Almost $8 Billion
According to the latest weekly report from Arcane Research, the spot volume has continued to go up since the crash.
The "trading volume" is an indicator that measures the total amount of Bitcoin that changed hands on any given day.
When the value of this metric increases, it means the number of coins being involved in transactions is going up at the moment.
Such a trend shows the BTC network is becoming more active as investors are moving a larger number of coins right now.
Related Reading | Bitcoin Blockchain Begins To Awaken From Death Spiral
On the other hand, a decreasing volume can suggest the general investor interest in the crypto may be going down as the network activity is declining.
Now, here is a chart that shows the trend in the Bitcoin trading volume over the past year:
The value of the metric seems to have shot up in recent days | Source: Arcane Research's The Weekly Update - Week 24, 2022
As you can see in the above graph, the Bitcoin trading volume has been rising recently and is now at a high value.
The current 7-day average value of the indicator is around $7.8 billion, close to the yearly high set during the LUNA crash last month.
Other than that spike and the current one, the spot volume had been pretty dead throughout the past 12 months, compared to the values of early 2021.
The reason behind the current high trading volumes is that Bitcoin has been observing some pretty sharp volatility recently.
The below chart shows the trend in the BTC volatility during the last year and a half.
Looks like the BTC market has faced high volatility recently | Source: Arcane Research's The Weekly Update - Week 24, 2022
From the graph, it's apparent that the 7-day average value of the Bitcoin volatility right now is the highest it has been since the May of 2021.
Periods with high volatility usually attract a large number of traders to the market and pushes those already in it to make some moves, thus resulting in high volumes.
Related Reading | Despite Fear In The Crypto Market Due To Bitcoin (BTC) And Shiba Inu (SHIB) Plunging, Gnox (GNOX) Holders Are Celebrating A 60% Price Surge
BTC Price
At the time of writing, Bitcoin's price floats around $20.6k, down 3% in the last seven days. Over the past month, the crypto has lost 32% in value.
The below chart shows the trend in the price of the coin over the last five days.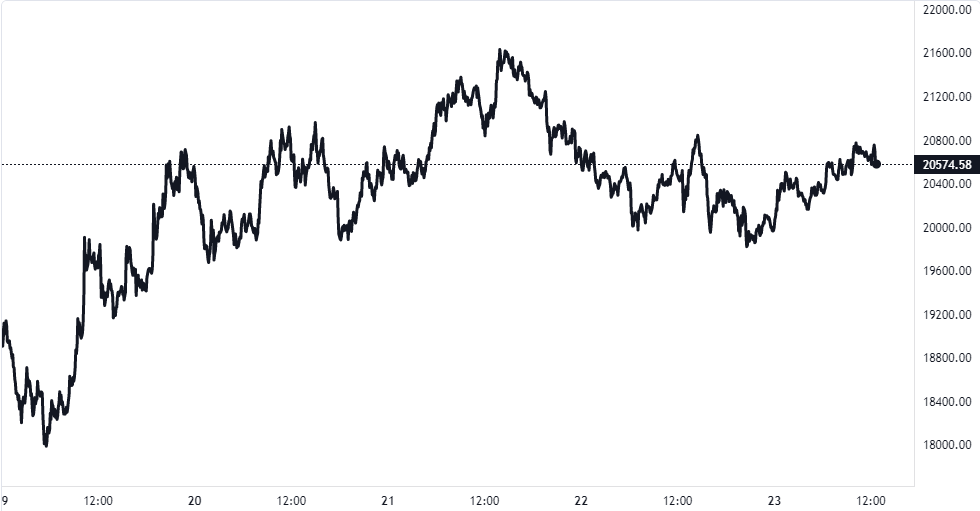 The value of BTC has been moving sideways over the last few days | Source: BTCUSD on TradingView
Featured image from Unsplash.com, charts from TradingView.com, Arcane Research